Welcome to our hotel!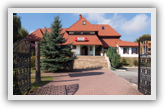 The Kosynier Inn is situated at the outskirts of Cracow, in beautiful surroundings that are part of the Scenic Park of the Jura Krakowsko-Częstochowska, only 5 km from the center of Cracow. Kosynier is a private property and the owners are proud to take advantage of their vast experience at managing a similar object in Las Vegas (USA). Kosynier is located near route E77 from Cracow to Warsaw. We possess rooms for 2, 3 and 4 people, each with their own bathroom and TV. There is a hotel restaurant serving polish and international cuisine at your disposal. Additionally, there is a Grill Bar, Drink Bar and a Banquet Hall, all part of our object. We recommend weekend visits for individual guests and organized tours, reunions, conferences, symposiums, banquets and wide range of ceremonies. Kosynier is situated as part 3ha park therefore we are able to organize open-air events. There are high quality tennis courts with artificial lawn based on german technology. Equipment is available to borrow.


We invite everyone to visit our cozy and hospitable interiors. We provide pleasant and professional service. 300m from the Inn a Cracow bus stop is located. The Kosynier Inn provides a 24/7 reception desk service. Free wireless Internet is available in the accommodations open for general use.
P R O M O C J E: